Jim River Guide Service
Home | Remote Camp | Photos Page 1 | Photos Page 2 | Photos Page 3 | Photos Page 4
Experience Alaska in the best way ...
Jim River Guide Service offers several fishing packages for fishermen that want anything from a do-it-yourself remote fishing experience to an experience out of a lodge that is fully guided. Jim River Guide Service offers these trips in many areas of Alaska to be sure to get you where the fish are biting. That is a big deal. When you are traveling half way around the globe for an awesome trip you don't want a run of the mill experience. The romance of a remote Alaskan fishing trip with friends and family is legendary.
The popularity of a remote tent camp in some of the most productive waters of the world keeps getting greater. Many fishermen have missed the opportunity of REMOTE Alaskan experience by booking trips on the road system or flying into a highly pressured lake, river or village. Hunters have been getting the full effect of the Alaska wilderness for over 50 years and fishermen are only starting to tap into the experience. This has the potential to be a trip that you will remember for the rest of your life if you do it right!
The most popular trip...
I offer several trips to accommodate most fishermen but there is one trip that is by far the most popular for those fishermen that want an adventure they will remember for a lifetime. I get pumped when I sign fishermen up for this trip. It is awesome. And it is so much more than most places offer and exactly the kind of experience I think a person should enjoy if they want to see Alaska like it is meant to be seen. Words can't describe it...it's the best. If you are a thrill seeker and want the true Alaska experience, book this trip. Be ready to have the time of your life. If you want more of a tamed down trip just ask me and I'll give you a few choices that are similar to other outfits. Keep in mind that there isn't a big price difference in getting an awesome wild Alaska fishing trip compared to a tamed down experience tailored for clients who want the pleasure of fishing Alaska but don't want to get too far out. If you want something tame, I offer that too!
The Remote Spike Camp is a much greater experience than the standard run-of-the-mill cookie-cutter river tent camp type trip so many Alaska fishermen end up getting by booking a trip not knowing for sure what they are wanting or getting. This is fly-in only. The Remote Spike Camps are over 200 miles from the road system. Other fishermen will be envious of your experience. My remote fishing camps offer the same kind of remote experience my hunters have been enjoying for over 15 years. That is important. We'll fly you into the fishing camp where you will have tents, cots and all of your camping and cooking gear. On the flight in you will likely fly over many mountains, glaciers, volcanoes, and hundreds of lakes and streams. You will expect to see lots of wildlife including moose, caribou, bears, wolves, eagles, swans and lots and lots of fish.
"We had a great time. The guys said they have never caught this many rainbows anywhere they've fished in the world. I don't think we caught one that was UNDER 20 inches. It was fantastic." Jim, NC
I will be putting you in an area where rainbows and one or two types of salmon will be targeted. Expect to catch a wide variety of fish. Other fish that could be caught are grayling, dolly varden, arctic char, lake trout and pike. If you want to catch HUGE rainbow trout this is the trip for you. They are gorging themselves on salmon roe and grow huge because of it. And there are lots of them. You can choose your weapon by using spinning tackle or flyfishing or both.
"Thanks for all your support, expertise, and guide service. The trip, experience and fishing were all phenomenal. You did a great job for us! On the plane trip back I gave your contact information to 3 couples and then gave it to my doctor back here in NY. You are certainly on our list for future trips. That mule deer bowhunt is certainly on my list." Scott, NY
You don't have to spend $5,000 for a week-long experience fishing Alaska like you may have heard. This trip is for up to 7 days/8 nights. The cost is $3,000.
Other trips...
I also offer day trips and over-nighters out of cabins that are do-it-yourself. Guided day trips are available. I have a great working relationship with one of the nicest lodges in Alaska that takes my clients who want to enjoy the lodge experience. You guessed it ... the prices vary depending on what you want. Contact me if you have something specific in mind for your Alaska fishing experience. I'll put together an awesome experience. You will quickly see why I have such a feverishly loyal customer base.

Willie Dvorak
Owner/Jim River Guide Service
605-228-8162 or 605-887-3561
www.jimriverguideservice.com
www.guidedalaskahunting.com
www.alaskafishingwithwillie.com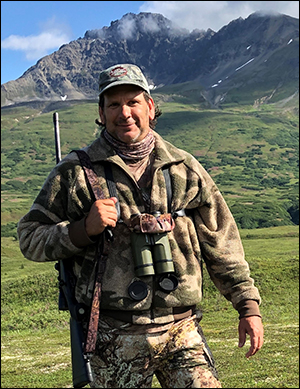 Master Guide and your host, Willie
Below are some photos for you to look at. ** There are more photos on additional photo pages. **

West view of one of the remote camps.

East view of one of the remote camps.

The sleeping quarters. These 8 and 10 foot Bomber/Hurricane tents
have cots for two people per tent and have plenty of room. I have
personally experienced these tents holding up in 70 mph winds.
They are the best in the industry!

Salmon spawning and giant rainbows chasing the eggs. You can see
the salmon very easily ... can you see the giant rainbows eating
the roe (eggs)? We fish during great salmon runs of humpy, king,
reds, silvers and dog salmon while at the same time fishing for
giant rainbows, lake trout, arctic char, grayling, sheefish,
dolly varden, and/or pike. There are liberal daily/possession limits
and plenty of opportunity for shore lunch fresh fish.

This is one of the feeder streams loaded with salmon and rainbows in an
awesome remote fishing area. Some of these salmon travel up to 600 miles
upstream to spawn. These types of fishing areas are fly-in only.

Tiny salmon and trout stream.

Salmon in the mouth of a feeder stream. There is always a chance
to view bears catching salmon while we are fishing.